Happy Chinese New Year! It's the year of the Rooster. The Year of the Rooster will start from Jan. 28, 2017 and last to Feb. 15, 2018.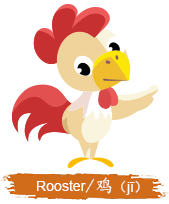 Rooster is the tenth in the 12-year cycle of Chinese zodiac sign. The Years of the Rooster include 1921, 1933, 1945, 1957, 1969, 1981, 1993, 2005, 2017, 2029...

Rooster is almost the epitome of fidelity and punctuality. For ancestors who had no alarm clocks, the crowing was significant, as it could awaken people to get up and start to work. In Chinese culture, another symbolic meaning of chicken carries is exorcising evil spirits.
People born in the Year of Rooster according to Chinese zodiac have many excellent characteristics, such as being honest, bright, communicative and ambitious. Most of them are born pretty or handsome, and prefer to dress up. In daily life, they seldom rely on others. However, they might be enthusiastic about something quickly, but soon be impassive.
If you google "Year of the Rooster", you will find out a lot more. Such fun although I believe none of it.
Yesterday Joe and I went to the Super China Buffet for lunch. It was disappointing. The variety and amount of food has gone way down. But I got the best chicken egg drop soup. And long noodles for good luck. They didn't have any beggar's purses though. Looking at the list of "lucky" food I notice that Joe got a lot of them without even knowing it.
Lucky food to eat during this 8 day celebration are: fish (an increase in prosperity), dumplings (wealth), spring rolls (wealth), sweet rice balls (family togetherness), fruit with a golden color (fullness and wealth), long noodles (happiness and longevity).
After we ate, we went to Rite Aid to get a few things. While we were in the store I began to feel sick -- dizzy, headache, my blood pressure went up and my heart started pounding. I left Joe in there and went out to the car. I just felt worse and worse. By the time we got home my head was pounding. I think they must have put aspartame in the iced tea. I get severe side effects to it and those are the symptoms I have when I eat or drink it. I took a couple of Tylenol and laid down on the sofa. I woke up 7 1/2 hours later feeling much better.
I got the church bulletin together and went to print it and it wouldn't print. I did everything. I cleaned the nozzles, aligned the heads, tested everything. All the tests turned out right but it wouldn't print when I sent things through to it. I NEED MY PRINTER!
I got up early today and ran to Wawa to get something for Fellowship Time. It was my week to bring the treat. I had meant to bake, but I slept instead. Then we went to church early so I could print out the bulletin over there.
We were going to go to the parade in Chinatown today, but I am still feeling under the weather, so we took Sunday afternoon naps instead. I have always loved my Sunday afternoon naps, even when I was a teenager. Probably mostly when I was a teenager. I slept a lot in my teens. So anyway, here are some pictures of the parade instead.
There's a lot of the week left, so hopefully I will feel better and we can do some more things to celebrate the new year.
Kathy
Sunrise: 7:11 a.m.
Sunset: 5:17 p.m.
10 hours and 6 minutes of daylight
(Yay! It's over 10 hours!)
Sunny and scattered snow showers
Temperature: 43*/30*